A Stitch in Time Saves Nine: Decoding Pharmaceutical Developability Assessment of NCEs
The developability assessment of new chemical entities (NCEs) is a crucial step in the drug discovery and development cycle. It involves an evaluation of a potential lead candidate's/compound's chances of becoming a clinical drug candidate at an early phase. The goal is to characterize the clinical drug candidate, identify, and address any potential challenges that may arise in early-phase development towards maximizing its probability of success at the late-phase development and/or during commercial campaigns, without causing colossal waste of time and resources.
What is the pharmaceutical developability assessment of a new chemical entity?
The pharmaceutical developability assessment of a new chemical entity primarily revolves around the physicochemical, physical, chemical, bulk, and mechanical properties of the drug substance along with its stability and manufacturability. These pre-formulation parameters are essential for the pharmaceutical developability to demonstrate, if the drug substance has the necessary attributes and connect those dots to formulate a safe, stable, and efficacious drug product.
Here are some key aspects that should be considered in the pharmaceutical developability assessment of a drug substance for speed to clinic.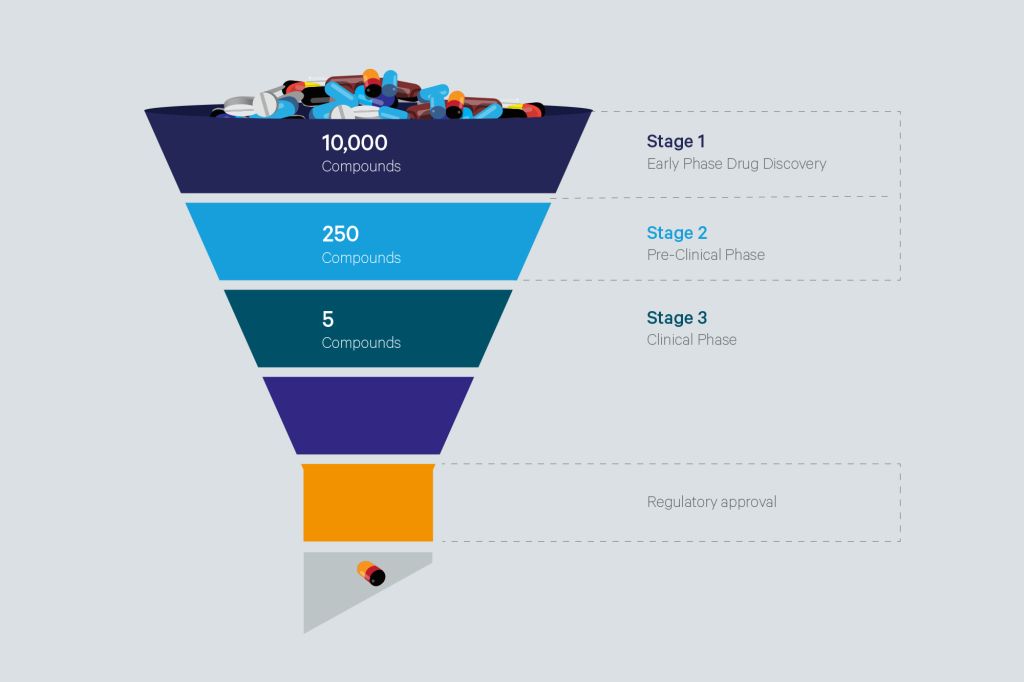 Physicochemical Properties
The developability assessment begins by evaluating if the compound or the drug substance offers favorable ionisation (pKa) and partition coefficient (Log P) in the gastrointestinal and/or biological fluids. This along with molecular descriptors like molecular weight, melting point, polar surface area and ability to form hydrogen or ionic bonds provide an insight into its ability to adequately solubilize and permeate through biological membranes after oral or alternate routes of administration. The solubility and permeability of the drug substance most often are a result of the above physicochemical descriptors. These properties provide insights into the compound's behavior during formulation, systemic absorption, and overall stability.
Bio-pharmaceutical Properties
The bio-pharmaceutical developability is most critical for a new chemical entity. This revolves around a holistic understanding of the solubility of the drug substance under physiologically relevant media, its ability to permeate through biological membranes upon oral administration, and its potential to undergo or avoid pre-systemic metabolism by pGp efflux transporters and p450 gut metabolizing enzymes. A very highly ionizing compound is not always favorable as it may have a higher solubility but might not provide adequate unionized dissolved fraction for absorption. The pH-partition hypothesis is the founding principle to understand this further. It's important to understand that it's the unionized dissolved fraction that forms an equilibrium to permeate through the biological membrane and hence the solubility and permeability have a very delicate interplay to balance. Poor solubility can lead to inadequate drug absorption and lower therapeutic efficacy.
The developability assessment evaluates the compound's solubility in different pH conditions, media, and solvents. Most of these investigations are kinetic in nature and what is understood is the dissolution rate or the rate at which the drug substance dissolves from its dosage form, providing insights into formulation strategies and potential bioavailability issues. For permeability, the experimental methods, such as in vitro permeability assays using cell monolayers (e.g., Caco-2) or artificial membranes (e.g., PAMPA), help predict absorption behavior and guide formulation development.
Solid-State Properties
The solubility as defined above must be made with the right version and solid form of the drug substance and it is an extremely important step of developability. The first checkpoint is to find the right version (free base, salt or a co-crystal) of the drug substance, based on its physicochemical drive. Once that is identified, the next checkpoint is to screen and select the preferred or thermodynamically stable solid form for further development. A drug substance could exist in more than one solid form, which could be anhydrous (polymorph) or have water or solvent in their crystal lattice (hydrate or solvates). The choice of the right version and solid form can significantly impact, the physical and chemical properties of the drug substance as different solid forms can exhibit variations in solubility, stability, and dissolution rates which could have a significant impact if uncovered later in development. Developability assessment aims to identify and characterize different solid-state forms and determine their impact on formulation and bioavailability and ensure that this gets built-in as a quality check during the release of the API. It's important at times to design experiments and draw conclusions in line with the CMC strategy identified for its further clinical and commercial development.
Bulk & Flow properties
The bulk and flow properties of NCEs are crucial factors in the developability assessment. These properties impact the manufacturing process, formulation development, and overall product quality. Most important of these properties is to understand and evaluate the particle size and distribution and what would be the overall impact of the particle size on the bio-pharmaceutical (dissolution/absorption) and pharmaceutical (flow & stability) attributes. Equally important is to design suitable crystallization processes to achieve this particle size consistency from lab to scale. Amongst the other prominent properties are the bulk density and powder rheology (flow & shear rate) which are indicators of flow and compaction behavior that are associated with ease of handling, processing (e.g., powder flow from the hopper to chute) and blend uniformity during drug product/formulation considerations. The particle shape and morphology that are linked with the crystal structure (e.g., slip planes) have an impact on the compressibility and cohesiveness that is associated with tablet compression and hardness. And finally, the drug substance should not have hygroscopicity that can lead to powder handling and formulation challenges and stability concerns over shelf-life. Evaluating these properties allows for the identification of potential challenges and optimization of handling, processing, and formulation techniques, ensuring consistent quality and performance of the drug product.
Stability
Stability assessment is crucial to ensure that the drug substance maintains its quality and potency throughout its shelf life and under different storage conditions. The compound's susceptibility to degradation under various environmental factors, such as temperature, humidity, light, and pH, is studied. Stability testing helps identify potential degradation pathways, degradation products, and appropriate storage and handling requirements.
Compatibility with Excipients
Compatibility studies are conducted to assess the drug substance's interaction with excipients commonly used in pharmaceutical formulations. These studies investigate physical and chemical compatibility, such as drug-excipient compatibility, moisture sensitivity, and potential drug-excipient interactions. Compatibility assessments ensure that the chosen excipients do not negatively affect the stability, efficacy, or safety of the drug substance.
Manufacturability
The developability assessment also considers the phase-appropriate manufacturability of the drug substance and drug product. The assessment should aim to identify any potential challenges or limitations in the drug substance or drug product development processes that may impact the immediate short-term focus (fast to clinic) and the longer-term focus to move to a late-stage or commercial-scale production. Sometimes, a calculated risk is taken to proceed with non-optimal manufacturability as not all compounds that move quickly to clinic would end up travelling through late-phase clinical development and/or being marketed.
Factors like synthetic route, scalability, yield, impurity profiles, and physical/physicochemical properties (particle size, version, solid form/polymorph, flow, solubility amongst others) of the drug substance are scientifically screened before or during API manufacturing, as some of the API attributes would have repercussions and connect the dots to define the CMC strategy for the drug product going to human consumption. A manufacturability assessment with critical quality attributes (CQAs) considerations would serve its purpose to provide a robust & stable quality product without investing a lot of effort later in the development. Having said that, irrespective of when these considerations are sought, early or late phase, the developability & manufacturability assessment of drug substance would remain more or less aligned with the DP CMC strategy.
Conclusion
Industrial researchers can identify potential challenges or limitations associated with the drug candidate through a phase-appropriate investment in the pharmaceutical developability assessment. This enables them to make informed decisions on whether to proceed with further development of the leads/clinical candidate or to prioritize other compounds. These decisions are most times made due to the safety, and efficacy profile of the new drugs and less due to the (bio)-pharmaceutical profile. The ultimate goal of the developability mindset is to select a clinical drug candidate that exhibits favorable pharmaceutical properties and has the potential to get successful progress from early to late-phase development and eventually to market.